Tetsu-to-Hagané Vol. 46 (1960), No. 7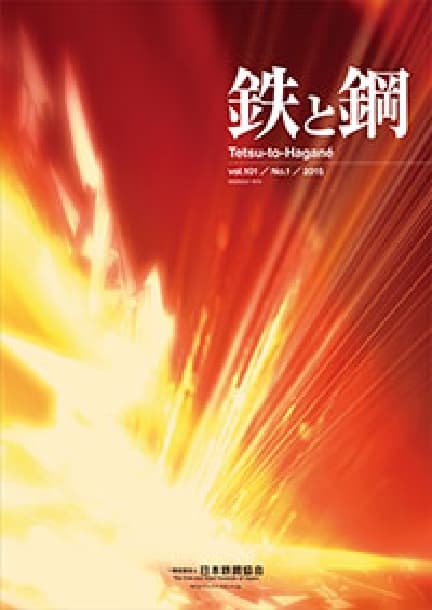 Grid List Abstracts
Tetsu-to-Hagané Vol. 46 (1960), No. 7
Application of Results Analized from Carbon and Heat Consumption
Takeo Yatsuzuka, Jun Sawamura, Susumu Ota, Takahiro Fukuda
pp. 741-747
In first report (Tetsu-to-Hagane, Vol. 46 (1960), No. 6 pp. 643-652), studies were made on carbon and heat consumption, and on the method of calculation of the heat required for various kinds of burdens.
To facilitate understanding on the carbon and heat consumption in blast furnaces as abovementioned, this report dealt with how to apply the results obtained from the first report to the actual furnace operation.
Readers Who Read This Article Also Read
Solubility of Nitrogen in Liquid Iron and Effect of Carbon, Silicon and Manganese on the Solubility
Shizuya Maekawa, Yoshitaka Nakagawa
pp. 748-753
The solubilities of nitrogen in liquid iron and liquid Fe-C, Fe-Si and Fe-Mn alloys were measured at 1500-1700°C.
The results on liquid iron confirmed that Sievert's law was followed in the range 95 to 760mmHg pressure.
The results obtained were as follows:
(1) The solubility of nitrogen in liquid pure iron was expressed as follows:
%N=1·2×10-5×T+0·0171
(2) The effect of carbon, silicon and manganese on the activity coefficient of nitrogen in liquid iron alloys was calculated by the following relation:
logfN=logC0N-logCN
(3) The effect of alloying elements on the activity coefficient of nitrogen in liquid iron was summarized as below:
logf (C) N=+0·135·%C C<4%
logf (Si) N=+0·048·%Si Si<4%
logf (Mn) N=-0·020%·%Mn Mn<4%
1500-1700°C
Readers Who Read This Article Also Read
On the Secondary Cooling of Continuous Casting
Yoshio Aketa, Kiyoto Ushijima
pp. 753-757
A series of experiments on the secondary cooling of continuous casting of steel was carried out. As the authors defined in the first report, it was stated that the solidification in the spray zone was" the secondary solidification" and the cooling of this stage was "the secondary cooling".
Based on the principle of normal ingot casting, authors thought that main factors affecting the secondary solidification of continuous casting should be as follows:
Evenness of cooling in the spray zone
Intensity of the spray cooling
Casting temperature
Casting speed
Experiments on the relationship between these factors and their effects on continuous cast billet mainly of square type revealed the following facts:
(1) To prevent deformation and cracks of billets, it was necessary to set up roller aprons and to keep evenness of the spray cooling. (Photo. 1)
(2) Intensity of the spray cooling affected on inner cracks of billets. There was the limit intensity of spray cooling for each grade of steel to get rid of inner cracks of billets (Table 2, 3 and Photo. 2).
(3) Too high casting temperature induced inner cracks of billets (Table 5 and Photo. 3).
These relationships in continuous casting were just the same as those in normal ingot casting. Although not confirmed experimentally, the limit intensity of the spray cooling should be varied with casting speed.
Investigation of Non-Metallic Inclusions Constituting Sand Marks by Electron-Diffraction Reflection Method
Kiichi Narita, Kenji Mori
pp. 757-762
Electron-diffraction reflection methd is applied for the identification of nonmetallic inclusions in steels.
The local analysis of nonmetallic inclusions is very difficult with the exception of use of an electron probe microanalyser developed recently. Notwithstanding the use of the electron probe microanalyser, only the composition of elements constituting the nonmetallic inclusions can be known. On the other hand by means of a crystalographical determination, the modification of the compound constituting the sand marks, could be identified. Hence an electron diffraction method may be considered preferable for the purpose which presume the origin of the sand marks from the knowledge of nonmetallic inclusions constituting it.
The results obtained are as follows:
1) Corundum (α Al2O3) and Hercynite (FeO·Al2O3) are identified in the nonmetallic inclusions constituting the complicated or mixed type sand-marks in Cr-Mo steel deoxidized with aluminum
2) Titanium nitride (TiN) is identified from the sand marks in 18-8 stainless steel containing titanium and molybdenum.
Systematic Study on the Mo-V Low Alloy Heat-Resisting Steel
Kiyoji Deguchi, Haruo Nakajima
pp. 762-769
The effects of adding Cr, Ni, Mo, V, Si and Mn on the low-alloy heat-resisting Mo-V steel of the base component 0·15% C, 0·8% Mo and 0·3% V were systematically studied.
The results obtained are as follows.
(1) S-curve is affected by Mo more remarkably than by V. When Mo and V are added together, then the noses of A3 and A1 transformation curves appear at about 770 and 700°C respectively and the bainite transformation at below about 575°C. By increasing Si, Cr and Mn, the beginning of A3 transformation is retarded down to below about 700°C, and also that of bainite transformation down to below about 500°C, according to the decrease of temperature.
(2) By the X-ray analysis of the precipitated carbides extracted electrolytically from the isothermal transformed steels, M23C6, Fe3C and VC are found in Mo-V steel, but only Fe3C is found in plain Mo or V steel. No differences are found in the kinds of carbides of Mo-V steel even by changing Cr, Si, Mn etc.
(3) By adding Mo and V together, the hardness as quenched is far higher than by adding them independently of each other, and the hardness increases further by addin Cr, Mn, Si etc. respectively. These results are well understood according to the effects of the added elements on S-curves. The maximum Charpy impact value is obtained by tempering at temperatures between 730-750°C after quenching from 970°C.
(4) The tensile strengths of the Mo-V steels at room temperature are far higher than those of plain Mo or V steel and the ratios of the yield points to the tensile strengths are also high. As far as the variations of Cr, Si, Mn and Ni of the Mo-V steel are less than those described above, the required mechanical properties are obtainable by tempering at the adequate telmperatures between 730-750°C.
(5) By the results of creep-rupture tests of Mo-V steels at 500°C, the followings are confirmed; the effect of Si between 0·03-0·42% is not distinct; by adding Cr up to about 0·93%, the strengths are apt to decrease after long time; by those coataining about 0·45%Cr, the strengths are higher when Mn is lower; by those containing Cr and Ni up to the upper limit of specification the strengths are higher than those containing no Cr and no Ni.
Determination of Fluorine in Basic Slag
Shigeo Wakamatsu
pp. 769-774
This investigation was undertaken to find rapid and accurate chemical methods for the analysis of basic slag. In the report (V), a simple combustion procedure and an indirect volumetric method were described for the determination of fluorine in basic slag.
Combustion procedure:
0·05 to 0·2g of sample mixed with 0·5g of SiO2 and 0·5g of V2O5 is burned at 1300 to 1400°C With moist oxygen in a combustion tube. (Silver gauze rolls are placed at the exit of this tube). The moist oxygen flow rate is adjusted to approximately 200ml per minute.
After about 60mn., the contents of the absorbers (filled with waten) are transferred to a 500ml Erlenmeyer flask, and titrated immediately to a phenolphthalein end-point with 0·01 N NaOH. Approximately 0·5g of mannitol is added and the titration is again carried out to the same end point.
In direct volumetric method:
Sample of 0·3g are weighed in a beaker. Add 30ml of 1 to 3 acetic acid, and heat it for 1-2mn at about 350°C (CaO is decomposed).
The solution is filtered, and washed with hot water. The residue is dissolved in 10ml of hot 1 to 1 HCl. Dilute to 150ml with water. Heat to boiling and add 30ml of saturated solution of ammonium oxalate. Boil for 3mn. and then determin Ca by conventional volumetric KMnO4 methods.
Readers Who Read This Article Also Read
Trends and Present Situations of Converter Steelmaking in Japan Steel & Tube Co., Ltd.
Tsuneo Kinoshita
pp. 788-796
Article Access Ranking
02 Dec. (Last 30 Days)
You can use this feature after you logged into the site.
Please click the button below.